Sale!
SmartCarrie® Deep Tissue Percussion Massager Pro
$299.99 USD
Treat your body with a professional deep tissue massage, anywhere, anytime
Powerful, quiet, and lightweight, Deep Tissue Percussion Massager Pro is trusted by health & wellness professionals to provide effective pressure and vibration to release all the pain, soreness, and lactic acid-buildup of your body.
Loosen up all the tensions & stiffness
Deep Tissue Percussion Massager Pro comes with 4 different massage heads to customize your treatment based on targeted muscle groups. The massager comes with 5 levels of speed, ranging from 1800 to 3000 vibration per minute for the ultimate massage treatment.
Fast Post-workout Recovery
Scientifically proven with adjustable depth, speed, and force to provide targeted and powerful treatment to each part of your body, SmartCarrie® is built to improve blood circulation and increase range of motions to reduce built-up lactic acid.
Accelerate for your Fitness Goals
Commonly used by people after an intense workout like HIIT, TRX, or running, these areas easily feel sore. Using the round-head or flathead, would be perfect to increase blood flow and decrease lactic acid buildup.
Ergonomic design and the newest technology from Japan
Deep Tissue Percussion Massager Pro incorporates a unique Japanese ergonomic product design and dura tac grip with customizable speed range and 4 attachments for an optimized experience.
Power and control, with 5 power levels delivering up to 3000 vibrations per minute. 10-hours usage upon full charge. Best of all, only 0.9lbs. You can easily bring it anywhere you go.
4 Heads for Maximum Benefits
Round – Large muscle group like thighs, glut, arm, and lower back
Flat – Whole body muscle group
Bullet Head – Joints, trigger points, and feet
U-Shape – cervical spine, neck, and ankle
Features: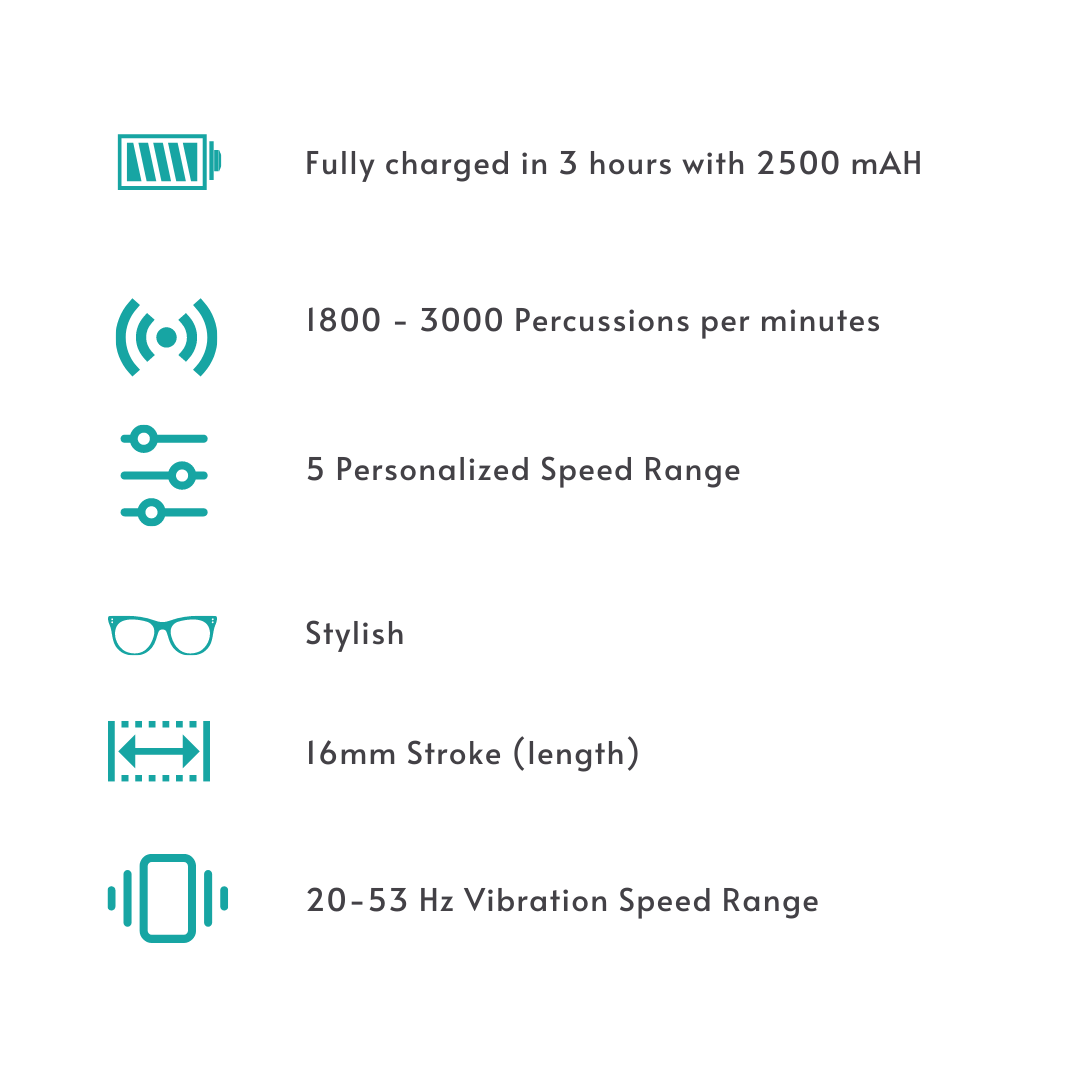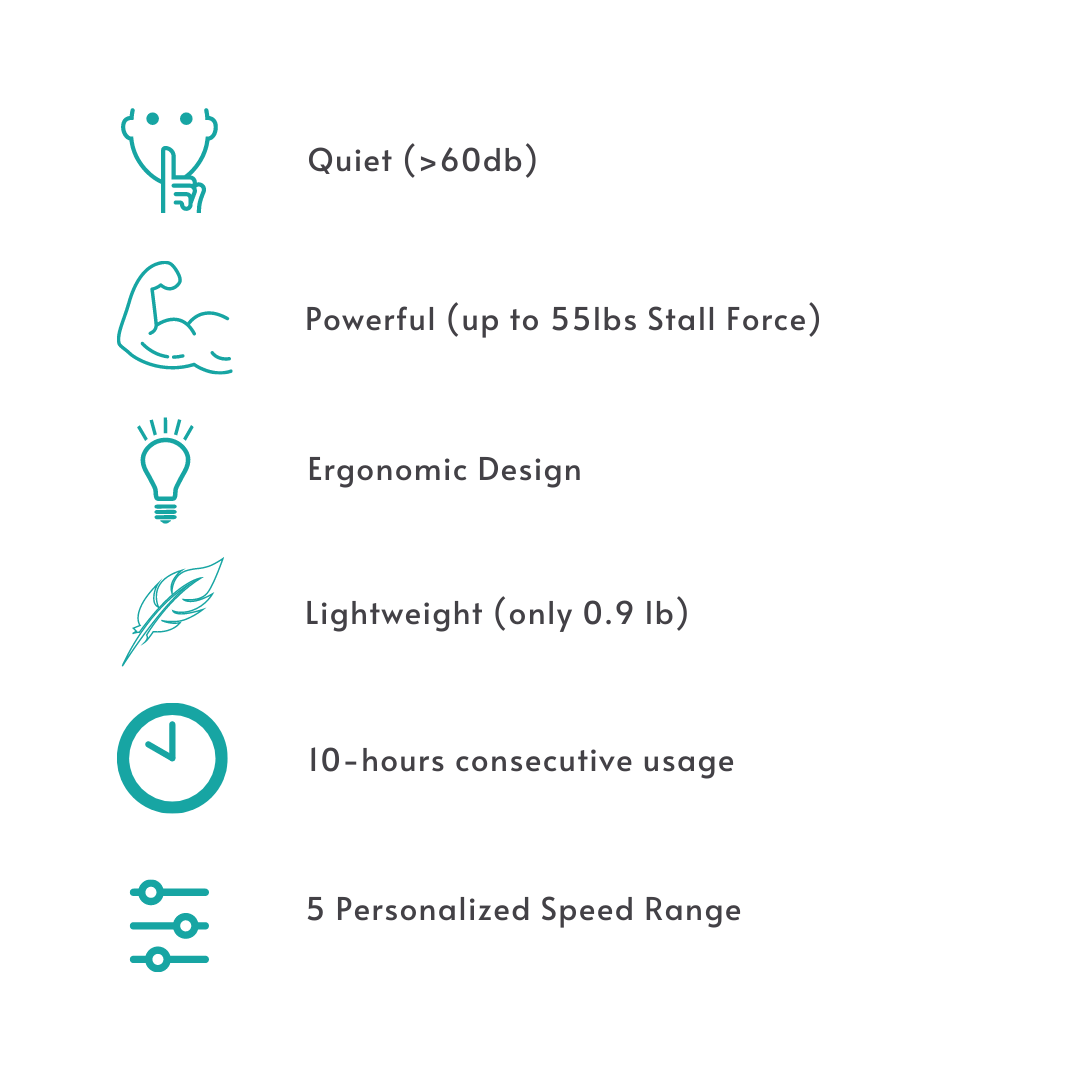 How do I use this Smart Massager PRO?
Take out the Smart Massager PRO and connect the rechargeable line and connect to a USB to fully charge the massager. For the first time, it will take 3 hours to fully charged.
Select a suitable massage head from 4 different choices based on your specific needs and muscle groups that you would like to receive the treatment.
Ensure the massage head is firmly attached to the Massager PRO before turning it on.
Push the power button and adjust the appropriate power level.
Test the suitable power level on your arm or thigh before applying on different muscle groups.
Which massage head should I use?
Flat Head – This is the most versatile massage head that can apply to the whole body muscle groups.
Round Ball – Suggested treating large muscle groups like thighs, glute, arms, and lower back.
U-Shape – Suggested treating cervical spine, neck, and ankles.
Bullet Head – Suggested treating joints, trigger points, and feet.
Can I use Smart Massager PRO to lose weight?
Smart Massager PRO is a powerful tool to increase blood flow to muscles recovery from exercise. The increased blood flow can help to accelerate oxygen and growth hormones to reach different muscle groups of your body. Deep tissue vibration can also stimulate fat cells ruptured and accelerate lean muscle growth.
How does it compare to other massage tools (like rollers)?
SmartCarrie® Deep Tissue Rhythmic Massager PRO goes much deeper than traditional rollers. With 5 vibration levels ranging from 1,800 vibrations per minute to 3,000 vibrations per minute, this can provide a professional-level deeper tissue massage that you will receive from a professional therapist but at a fraction of the price.
What is your warranty policy?
All SmartCarrie® Deep Tissue Rhythmic Massager PRO is manufactured with high-quality industrial parts designed to last. If any malfunctions occur, your limited warranty covered 1 year of exchange or replacement. Your message attachment heads will have 30 days warranty.
BATTERY
How long does it take to fully charged?
Only logged in customers who have purchased this product may leave a review.